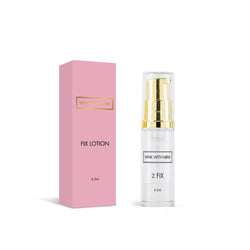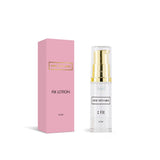 Wink with Mink Lashes
FIX Lotion 6.5ml
Our FIX lotion is enriched with plant extracts to add nourishment to the lashes during the treatment.
FIX lotion should be applied to the lashes after the LIFT lotion. Focus the product at the root of the lashes (as this is where we want to see the lift), and ensure that an even layer is applied (as per photo).
Leave the FIX lotion on the root of the lashes for 5-8 minutes. Leaving it on for 8 minutes will ensure maximum results/impact.
Remove the FIX lotion with a dry tissue before moving onto the next step (tinting).
Our 6.5ml bottle contains enough product for approx 18-22 lash lifts/brow lam. 
The nozzle packaging  and airtight pump ensures that the product stays fresh for as long as possible.
Once opened, use within 8 weeks.
Fix Lotion
I am so impressed with the fix lotion. It was my first time trying it and I will definitely purchase again.
Thanks
Fix Lotion
I am so impressed with the fix lotion. It was my first time trying it and I will definitely purchase again.
Thanks