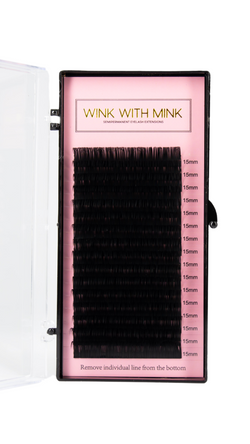 Wink with Mink Lashes
D CURL 0.05 VOLUME MINK LASH EXTENSIONS
WINK WITH MINK D Curl 0.05 Classic Mink Lash Extensions are individual lashes, used for Russian Volume hand-made fans.
These lashes fan beautifully and will enable you to create textured sets.
16 strips per box. Each strip has approximately 200 lashes. Our mink lash extensions are matte black and have no coating. This enables the adhesive to travel to the deeper layers of the extensions and create a stronger bond with the natural lash.
Beautiful lashes
These lashes are beautiful to use and fan so easily I love using them
0.05 trays from wink with mink fan like butter 🤍
Beautiful lashes
These lashes are beautiful to use and fan so easily I love using them
0.05 trays from wink with mink fan like butter 🤍