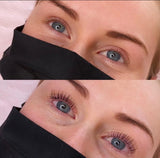 Wink with Mink Lashes
NOURISH OIL
Our NOURISH Oil is enriched with vitamin E, to strengthen the lashes and promote growth. It is a thick texture with a touch of luxury.
Pump one pump of NOURISH Oil into the lid.
Using a micro applicator, apply NOURISH (sparingly) to the lashes/brows at the very end of the treatment.
Apply NOURISH to the lash line too, where the silicone shield was placed, to add moisture back into the skin.