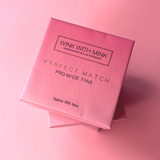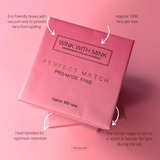 Wink with Mink Lashes
PERFECT MATCH Pro Made Fans 10D 0.06 L CURL
Our Perfect Match Pro Made Fans are literally the 'perfect match' for handmade volume. Create full bodied, textured lash sets without the need to make the fans yourself!
These are the perfect addition to your lash trolly if you want to speed up your timing on Russian Volume sets, or if you are a classic lash artist and want to transition to volume, without the hard work.
Everything you need to know about our Perfect Match Pro Made Fans:
Approx 1000 fans per box.
Eco friendly box with ridges on the lid to act as a 'barrier' and 'store' for the fans during your set.
They are a direct replication of Shona's handmade fans.
Heat bonded, not glue bonded. Heat bonded bases allow for better retention.
Snatched thin bases on all fans.
Quicker appointment times = happy clients = more income for you!