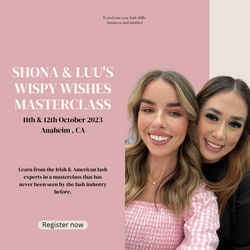 Wink with Mink Lashes
Shona & Luu's Wispy Wishes Masterclass 11th & 12th October 2023, Anaheim California
Learn from the Irish & American lash experts in a masterclass that has never been seen by the lash industry before.
Join us on the 11th & 12th October 2023, in Anaheim California for a two day masterclass that will transform your lash business. Get ready to create wispy lashes of your dreams, see the industry with a fresh perspective and be mind blown with the strategies that Shona will show you to allow your business to THRIVE.
The full cost of this masterclass is $600. A deposit of $200 is required to secure your place, and the remaining $400 is due the week before the masterclass.
What you will learn...
- How to create different types of wispy fans.
- How to work with lash layers.
- Creating lash symmetry with wispy lashes.
- Demo on live model.
- The science behind best retention.
- How to attract your dream clientele.
- How to set strategic goals for your lash biz.
- How to use psychology to build your brand tribe.
- How to adapt a growth mindset that will allow you to stand out.
12th October 9-4pm. 13th October 9-2pm.
If you are attending LashCon, this is the perfect opportunity to extend your business trip & join the masterclass.
All students will receive a full kit worth over $300.
We will be contacting you closer to the date with the exact location of this unmissable masterclass.