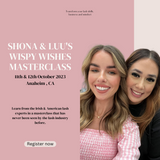 Wink with Mink Lashes
Shona & Luu's Wispy Wishes Masterclass 11th & 12th October 2023, Anaheim California
Learn from the Irish & American lash experts in a masterclass that has never been seen by the lash industry before.
Join us on the 11th & 12th October 2023, in Anaheim California for a two day masterclass that will transform your lash business. Get ready to create wispy lashes of your dreams, see the industry with a fresh perspective and be mind blown with the strategies that Shona will show you to allow your business to THRIVE.
The full cost of this masterclass is €1100. A deposit of €400 is required to secure your place, and the remaining €700 is due the week before the masterclass.
What you will learn...
- How to create different types of wispy fans.
- How to work with lash layers.
- Creating lash symmetry with wispy lashes.
- Demo on live model.
- The science behind best retention.
- How to attract your dream clientele.
- How to set strategic goals for your lash biz.
- How to use psychology to build your brand tribe.
- How to adapt a growth mindset that will allow you to stand out.
12th October 9-4pm. 13th October 9-2pm.
If you are attending LashCon, this is the perfect opportunity to extend your business trip & join the masterclass.
All students will receive a full kit worth over $300.
We will be contacting you closer to the date with the exact location of this unmissable masterclass.
Our Advanced Lash Lift Masterclass is suitable for lash artists who already hold a certificate in Lash Lift & Tint, but want to further their skills. If you feel like you are not getting consistently good lash lifts, this masterclass is for you!
It is held in the Dun Laoghaire, South Dublin from 10-4pm. 
The total cost of the masterclass is €300. A deposit of €150 is required to secure your place, and the remaining €150 is due on the day of the course. Each student will receive a full kit (worth over €75) and a detailed manual.
You are required to bring a model for the course, for the model session at 2.15pm.
What are the learning objectives of this masterclass?
- Choosing shield size.
- Effectively analysing the lash growth and direction to aid shield size.
- How to apply the shields and correct distance from lash line.
- Temperature and humidity variables for optimum lash lift.
- Correct glue & product placement.
 How to approach the varying cycles of the natural lash for best results.
- Demo work.
- Model work.
- How to 'undo' a lash lift.
- How to 'treat' over processed lashes for the relaxing effect. 
 Lots of tips and tricks to enhance the skills of your lash lift.
Tea, coffee and sandwiches are provided for students on the day of the course. 
Each student is required to complete three case studies after the course in order to receive their certificate of qualification. Each case study must be completed on a model, in addition to answering some questions. The purpose of the case studies is so that Shona can continue to educate all students remotely, motivate them and troubleshoot any potential problems.