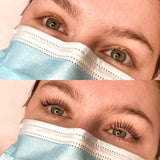 Wink with Mink Lashes
Silicone Lash Lift Shields Mixed Pack
Our silicone shields are a brand new design to ensure maximum results for your lash lift. They are flexible, to mould the shape of the eye, and have a velvet feel for ease of washing.
The pack contains 5 shield sizes - SS, S, M, L, LL.
The SS is suitable for someone with short lashes, while the M-L is suitable for those who have long lashes.
Top tip: The smaller the curve (SS/S), the bigger the lift!
Silicone Lash Lift Shields Mixed Pack
Silicone Lash Lift Shields Mixed Pack