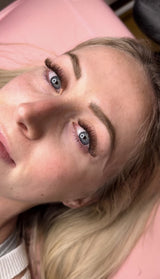 Wink with Mink Lashes
YY Lashes Brown
Say hello to the revolutionary lash extension, which gives a volume effect, in half the time, without compromising retention!
The WINK WITH MINK YY Brown Lashes, are a rich chocolate brown and have a flat base. This gives the illusion of a darker lash line and increased retention.
The YY fan contains 4 extensions. They are applied exactly like classic lashes. The long base ensures  maximum adhesion for the glue. 
The YY Lashes creates a full, fluffy and soft effect in the same amount of time it would take you to apply a classic set.  
Brown lashes are the perfect alternative for client's who want a softer lash look, or are aiming for the 'clean girl aesthetic'. 
How to apply the YY lashes:
Using your tweezers, grab the extension in the middle, just before the base splits into the YY. By doing this, you will keep the extension intact. After grabbing the extension correctly, apply exactly like a classic lash.